Welcome to Watch Trading Academy!
Did you know that the average watch flip takes 72 hours and returns 19%?
I am very excited to have you understand how these returns can become new normal for you. This is an opportunity to not only create incredible returns on your investment, but to do so while protecting your original investment and enjoying your "view" of time.
Welcome to the world's first and largest Watch Trading Platform. Since 2013, we have helped over 5,000 people discover the power of watch trading as both an opportunity for passive income and also an opportunity for long-term investments.
Jewelers, watch traders and watch dealers are all very secretive about their business, their revenue and their sales strategies. Why? Because they sit on a gold mine and don't want others to know about the power of this $200 BILLION business.
We, on the other hand, help normal people discover how they too can tap into this massive market without being left in the dark. Our mission is to provide the education and expose the loopholes of the watch trading markets while showing you step-by-step how any person with $1500 (the minimum capital needed to buy watches), access to a post office, and computer can actually take advantage of this opportunity right from their own home.
Between jeweler margins, sleazy tricks, and private labeled garbage out there, there are tens of thousands of dollars being lost from consumers on each and every watch purchase they make. This loss is the opportunity for you to step in and earn your cut of that same margin jewelers have been hoarding for themselves.
Since 2013, we have been helping people learn about margins, what to pay, where to buy, how to sell and more importantly how to turn most people's hobbies into a lucrative business. With our top students earning over $500,000 in just 6 months, to our entry-level students becoming profitable in as little as 30 days, we know that we have created the best watch trading community found anywhere. Results based on real bottom line NET profits speak louder than assumptions, which is why even people like Kevin O'Leary, from Shark Tank, couldn't agree more.
Do you qualify to become a Watch Trader?
While some of our students start their journey with as little as $700, we recommend having at least $1500 to buy watches after joining us. This will give you the resources needed to buy 1-2 watches worthy of trading.
We recommend living in a country where you have easy access to a post office or safe parcel office like FedEx or UPS. Our members are scattered all over the globe, as we have members in the US, Canada, UK, Australia, most of Europe and even some in the Middle East. While we can only speak to the results of our students, it should be clear that the majority of our students are in the US and Canada.
In order to be successful you will need to have your own bank account (so you can actually complete financial transactions like receiving and sending money) and of course your own computer in order to search deals.
We will teach you the rest in our very comprehensive course. We cover everything from which models to buy and which to run away from, how to get started, where to buy & sell, and, most importantly, how to become profitable trading watches. Once you have completed the course, simply devote 1-2 hours a week or per day depending on how fast you want to keep growing in this trade. The power of watch trading is that its very "low cost" to get started and "faster than most businesses" to bring in a profit.
Who am I?
My name is Pejman Ghadimi. I am a well-known author of the best selling books: Third Circle Theory and RADIUS, and founder of the financial firm VIP Motoring, which was the first wealth management company whose primary function since 2005 has been to find alternative assets such as exotic cars, watches & art as investments. You may have also seen my other work where I teach Entrepreneurship with my Secret Entourage Academy since 2008 and also teach exotic car investing.
I love creating businesses and investment models that don't require a whole bunch of time to create real profits.
I got into watch trading because I had never met a poor jeweler – that realization opened my eyes. I needed to understand why.
I have been trading watches since I was 21 years old (which has given me almost two decades of experience). I had lost money countless amount of times doing it in the first few years. All that learning by experience eventually led me to understand the secret formula that now enables 99% of my trades to be profitable.
How profitable really is watch trading? So profitable that in 2017, I ended the year with $287,931 dollars in profits. In 2018 I fell short of my million-dollar goal but still ended with $820,677 in profits. 2019 was my best year yet – because my students started surpassing me, with my top student making over $500,000 in just 6 short months.
I have been teaching results-based strategies for the last 12 years and while I love teaching today and continue to help students discover how to become great watch traders, I also continue trading in order to stay in touch with an ever-evolving industry and continue to post case studies, results and more in our incredible community.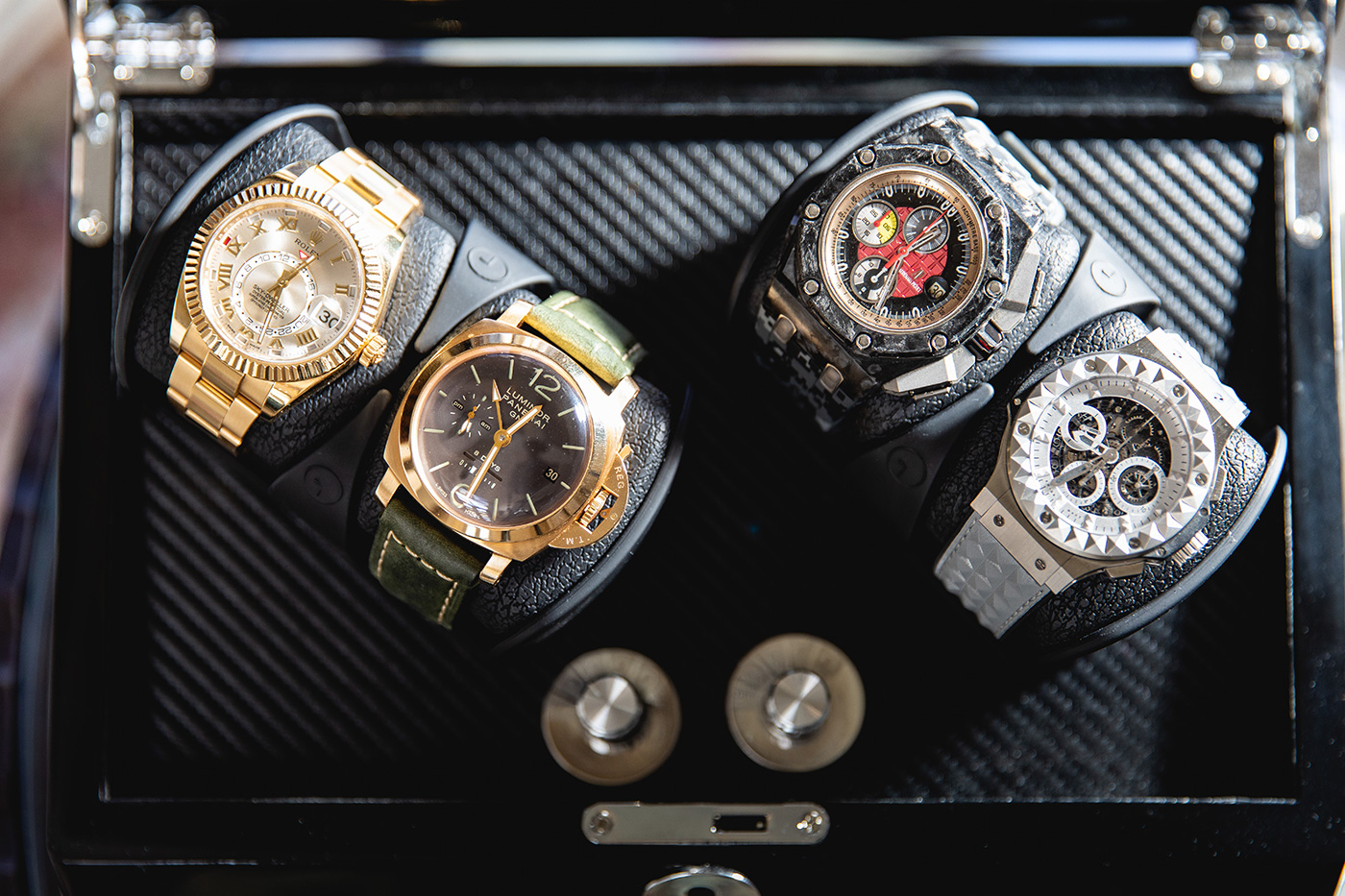 Not All Watches Are Created Equal
Luxury timepieces are a bit different from normal watches.
While normal watches are mass-produced and labeled under different brand names, timepieces are various works of art that have been created by the proud passion of a human being, and often utilize jewels and precious metals which actually have value above and beyond the hype of a brand.
With movements taking months to make, to the exclusivity of low production model numbers, there is a real, tangible value to a luxury timepiece that just doesn't exist with an ordinary watch you could buy at your local retailer.
An example would be a Movado watch which you can buy for $1,500 at the store, and would immediately have lost its value to near zero as soon as you walk out the door. On the other hand brands like Rolex, Audemars, or Patek go up in value from the day you buy them. Mid-level brands like Cartier, Breitling, and Omega will depreciate originally but then hold their value for the remainder of their existence.
Regardless that you take advantage of the rising prices of limited Rolex watches or trade the margins of already depreciated luxury watches, there is a significant opportunity to protect your original investment while making a healthy profit from the margins of the right watch.
How I can help you!
I want to teach you all you need to know about this industry and how you cantata advantage of buying some of the nicest watches available on earth at over 80% OFF their original pricing. I want to educate you on how to avoid replicas, scams and other issues associated with buying luxury watches and instead enable you to understand how to add watches as and income source and investment opportunity, both long and short term.
By becoming an Insider Member, you get access to my 8-hour video training course where I will breakdown step-by-step everything you need to know to be able to buy, sell and trade luxury timepieces for fun and profit, and be able to build a successful and lucrative business doing so.
Insider Members also get a list of the best watches for the money, private resources that help you save money in case of repairs or servicing, and the best ways to get very low pricing, all written from personal experience and always updated.
Not only that, I share with you case studies of EVERY watch I buy or have owned since I've started using these strategies, and break down to the exact cents my cost of ownership, regardless if its profit or loss.
I even go as far as presenting you the top 5 – 8 watches I am personally looking at weekly (almost as if it was the stock market) and give you my thoughts on what I think its worth if you wanted to buy it before I did.
The idea of Watch Trading Academy is more than just teaching, it's bringing people together in our communities so that we can all continue to make good profitable decisions around what we are most passionate about: watches.
Meet Your Mentors
I've had a passion for luxury timepieces my entire life, and it wasn't until 2011 that I started collecting and flipping those assets with the techniques learned here at Watch Trading Academy. Mastering the intricacies of the watch market, the boutique brands, and how to approach the process have all been essential to making intelligent investment decisions which has resulted in $100k in profits in less than 5 months, be sure to check out how I did it here.
Profits To Date: $306,600
I've always had an interest in timepieces. Things got serious in 2013 when I got my first Rolex. From then on, I could typically only own 1, maybe 2 lower-tier models. Then a couple of years down the road, I ran into Watch Trading Academy. The information on the platform helped me learn about the industry. Now, I'm wearing well over $100k+ worth of watches a month. Since I've joined I've made over $110K wearing and flipping these luxury timepieces.
Profits To Date: $110,000
Since January 2017, I have been in the Watch Trading Academy while being a full time student. I have had the privilege of trading over several hundred watches providing me with great insight into the industry. I continue to trade watches with an emphasis on Breitling & Hublot.
Profits To Date: $137,000
I own a financial & investment advisory practice and a law firm in the suburbs of Chicago. I am one of the original members of the Academy and this has been one of my best investments. The knowledge from the academy has enabled me to make good money, with such ease that it made me wonder if I should continue with the law firm. Apart from getting to enjoy really high end timepieces, the real benefit has been the connections I have made with other like minded professionals and entrepreneurs, which has opened up opportunities far beyond watch trading.
Next Steps…
Now with that said, there are simply 2 ways for you to get started and one step closer to your opportunity to make a profit wearing and flipping some of the nicest luxury timepieces to date.
If you don't love money or are unsure if watch trading is for you, click here to sign up for a free webinar where I will share with you a private case study of one of my watches.
If you are ready to become a watch trader and learn all the secret strategies that have allowed so many of my students to become profitable in their first 30-90 days, click here to become an Insider Member to unlock full access to all my teachings and resources and join our private community.
Feel free to connect with me on Instagram, Youtube, or Facebook. Also I do my best to respond to all comments left on articles.
– Pejman